If you're a web or graphic designer, then you're probably familiar with PSD files. PSD stands for Photoshop Document, which is the default file format used by Adobe Photoshop. These files are incredibly versatile and can be used in various design projects such as website mock-ups, flyers, posters, logos and more.
One of the biggest advantages of using PSD files is that they allow for extensive customization. With layers and smart objects, designers can easily edit individual elements within a design without affecting the rest of the image. This level of control makes it easy to fine-tune your designs until they are perfect.
However, creating high-quality PSD files from scratch takes time and effort. That's why many designers turn to trusted sources that offer ready-made templates and resources to help speed up their workflow.
Quality PSD Files
We appreciate to all those talented Photoshop Designers who designed and share their Creative design stuff with their efforts, so others designers can learn and get inspiration from their works. Here we have listed 25 Quality PSD Files for your next Web or Graphic Design Projects to Download from various direct locations.
Freebiesxpress is a website that offers a comprehensive collection of free PSD files and mockups for designers. The platform provides an extensive range of design tools, including UI kits, icons, textures, templates, and more. It is ideal for anyone looking to enhance their design skills or complete projects efficiently with the use of high-quality PSD files.
One standout feature of Freebiesxpress is its user-friendly interface that allows designers to access different categories easily. With a few clicks on the site's menu bar, you can find what you need without hassle. Whether you're working on web or mobile designs, branding or packaging projects; there's something for everyone in this vast online library.
In summary, Freebiesxpress is an excellent resource for designers who want to get access to top-notch PSD files and mockups at no cost.
---
Freepik is a comprehensive platform that provides free resources for designers and developers. It offers a vast collection of high-quality photos, illustrations, PSD files, vectors and more to use in your projects. Freepik helps you find the perfect media that you need for your website, banner ads, presentations or any other creative project.
One of the most sought-after features on Freepik is its extensive library of PSD files. These files can help designers create visually stunning designs with ease by offering them pre-designed templates and elements to work with. The platform has various categories of PSDs such as business cards, flyers, infographics, logos and many more to choose from. Designers can customize these files according to their requirements easily.
---
All-Free-Download.com is a website that offers an extensive collection of PSD files, icons and vectors for designers and creatives. This platform has been around for years and has become one of the go-to sources for free downloads when it comes to graphic design resources. At All-Free-Download, designers can find a wide range of high-quality PSD files, including mockups, templates, textures, icons, and much more.
One of the best things about All-Free-Download.com is that all their resources are completely free to use. The site features an easy-to-use search function that makes it simple to find exactly what you need quickly. Additionally, each resource is carefully curated by the team at All-Free-Download.com to ensure that only high-quality PSD files are featured on their site.
---
Official PSDs is a community-driven platform for graphic designers, where they can interact with fellow artists and share resources. It is specifically designed for creators of all skill levels who are looking to improve their craft and expand their knowledge in the field of graphic design. Whether you are an experienced designer or just starting out, Official PSDs has something to offer everyone.
One of the main benefits of using Official PSDs is access to high-quality PSD files that can be downloaded and used in your own projects. The site features a vast library of professionally designed templates, graphics, textures, and other resources that you can incorporate into your work. With new content added regularly by the community members, there is always something fresh and exciting to discover.
Moreover, Official PSDs offers a platform for designers to showcase their work and receive feedback from other members.
---
PSD files are a crucial component in any graphic or web design project. They are the go-to resource for designers who want to create stunning visuals, and they have been used by professionals for many years. One of the most popular sources for quality PSD files is psdgraphics.com, an old timer in the design community.
At psdgraphics.com, designers can download high-resolution backgrounds, textures and PSD icons that will add depth and dimension to their designs. The website has a vast collection of resources that cater to different design styles and preferences. Whether you're looking for grunge textures, geometric patterns or abstract backgrounds, psdgraphics.com has got you covered.
The website is user-friendly with an intuitive interface that makes it easy for designers to find what they need quickly.
---
Dribbble is a popular online platform for designers and creatives to showcase their work, connect with other professionals in the industry, and find inspiration. One of the key features of Dribbble is its ability to allow users to upload and share PSD files. The ability to share PSD files on Dribbble has made it an invaluable resource for designers looking for new ideas, resources, and tools.
PSD files are essential for creating high-quality designs as they allow designers to have full control over every aspect of their design process. By sharing these files with other designers on Dribbble, creatives can get feedback on their work, learn new techniques and methods from others in the community, or even collaborate on projects together. This creates a culture of learning and growth that benefits everyone involved.
---
Freeimages.com is a website that offers an extensive collection of high-quality stock images and psd that are free to download and use. The site has been in operation for over a decade, offering photographers and graphic designers the opportunity to share their work with others while giving businesses and individuals access to a wide range of visual content.
One of the most significant advantages of using Freeimages.com is the vast selection of images available. With over 400,000 photos, illustrations, and vectors, there's something for everyone. Whether you're looking for images related to business, travel, lifestyle, or nature – you'll find it here.
Another great feature of Freeimages.com is its user-friendly interface. Visitors can easily search for images by keyword or browse through categories such as abstracts, animals, food & drink, holidays & celebrations – just to name a few!
---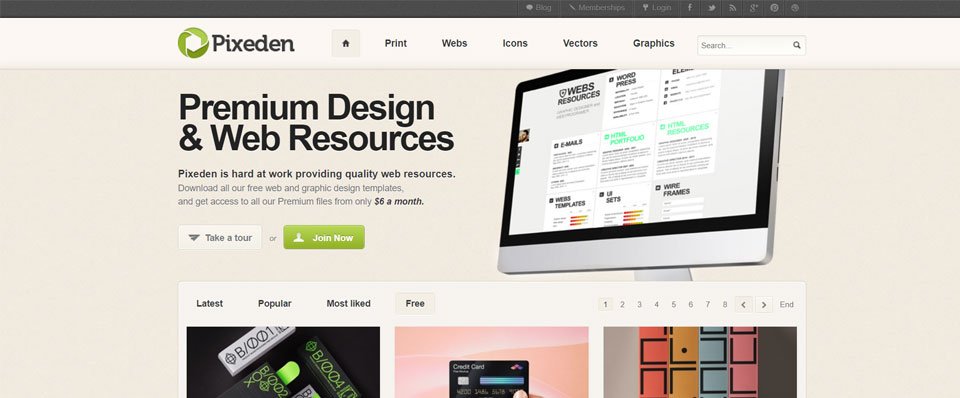 Pixeden is the go-to source for graphic and web designers looking for high-quality design resources. The website is hard at work providing an extensive collection of free web and graphic design templates that are available for download. One of the main highlights of Pixeden's offerings is their selection of PSD files, which are layered Photoshop documents that are essential to any designer.
If you're looking to create a stunning website or landing page, Pixeden has got you covered with their range of free PSD templates. They have everything from business card designs to brochure layouts, all customizable to your needs. With Pixeden's easy-to-use templates, creating a professional-looking design has never been easier.
Pixeden also offers a wide range of mockups and UI kits that can be used for various projects such as app development, branding, and product presentations.
---
Land-of-web is a well-known online platform for graphic designers, web developers, and creative professionals. The website offers various resources to help you achieve your design goals. One of the most popular features on land-of-web is their collection of PSD files. These files are essential for any web or graphic designer as they provide a starting point for creating stunning designs.
The PSD files available on land-of-web range from website templates to logos and icons. All of these files are meticulously crafted by skilled designers who have taken care to ensure that each layer and element is perfectly aligned. This makes it easier for other designers to edit and customize these designs according to their requirements.
Whether you are looking for inspiration or need a head start on your next project, the PSD files available on land-of-web will not disappoint.
---
Blugraphic is a platform that offers an extensive collection of pixel-perfect PSD freebies and website templates themes. With Blugraphic, designers can easily access high-quality resources to enhance their web design projects. The platform provides various UI elements, patterns, brushes, textures, and much more.
One of the most significant features of Blugraphic is the availability of PSD files for free download. These files enable designers to work with layered graphics in Adobe Photoshop to customize designs or create new ones from scratch quickly. By downloading PSD files from Blugraphic, designers can save time and effort while improving their design skills.
In addition to PSD files, Blugraphic also offers an array of website templates and themes that are easy to use and highly customizable. These templates come with pre-designed layouts that eliminate the need for starting from scratch every time a new project comes up.
---
Graphicburger is a website that offers an extensive collection of free PSD files and other design resources for both personal and commercial use. Each item on the website is created with utmost care for every pixel, ensuring high-quality designs that meet the needs of designers and creatives alike. With a vast library of graphics, textures, vectors, templates, icons, fonts and more, Graphicburger is the ultimate destination for anyone looking to elevate their design game.
All PSD files on Graphicburger are editable in Photoshop software. This means you can modify each layer as needed to fit your project requirements. Whether you're working on a personal project or creating content for clients, Graphicburger has got you covered with its rich selection of free resources. What's more?
---
Are you a web designer, developer, or tech lover looking for the latest trends and tutorials in web design? Look no further than Tech & All. Their online web magazine offers rich media content and sources to keep you informed and up-to-date on the ever-changing world of technology.
At Tech & All understand that staying ahead of the competition is crucial in today's fast-paced digital landscape. That's why they provide their readers with practical tutorials on the latest tools and techniques used in web design. Whether you're a beginner or an experienced professional, their articles are designed to help you take your skills to the next level.
Their team of experts is passionate about sharing their knowledge with our readers. From industry insights to best practices, we cover all aspects of web design.
---
Graphicsfuel has been a go-to resource for those who are looking for quality PSD templates. For the last few years, Graphicsfuel has been consistently providing its users with top-notch designs that have helped them boost their creativity and productivity. The website offers a wide range of free and premium PSD files that can be used for various purposes such as creating mockups, web designs, logos, posters, flyers, and much more.
One of the best things about Graphicsfuel is that it provides an easy-to-use platform to download free Photoshop (PSD) files. Users can simply browse through the collection of freebies available on the website and choose the ones they need without any hassle. Moreover, if you are someone who wants to take their design skills to the next level, then Graphicsfuel also offers premium PSD templates at very reasonable prices.
---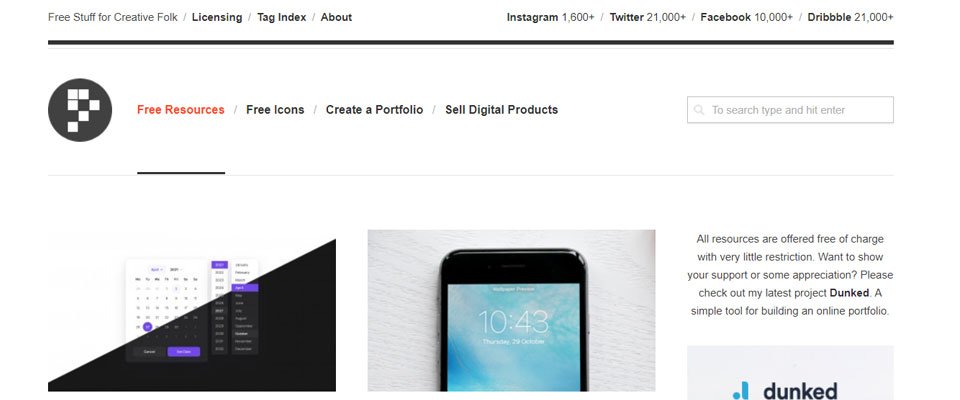 Looking for high-quality design resources that won't break the bank? Look no further than Premium Pixels, a comprehensive collection of free design resources including icons, patterns, textures, brushes and more. Whether you're a graphic designer, web developer or just someone looking to spruce up their personal projects with some professional-grade visuals, Premium Pixels has everything you need to take your designs to the next level.
One of the standout features of Premium Pixels is its extensive library of PSD files. These Photoshop files are an essential tool for any designer looking to create bespoke graphics from scratch. With PSDs covering everything from social media templates and email newsletters to website headers and infographics, there's no limit to what you can achieve with these versatile files. Plus, all PSDs come complete with layered artwork so that you can easily customize them to suit your needs.
---
FreePsdFiles is a treasure trove of free PSD files and Photoshop resources for designers, developers, and creative professionals. It offers a vast collection of high-quality PSD files for various design needs, including web design, graphic design, UI/UX design, social media graphics, print design, branding and more. With FreePsdFiles at your disposal, you can create stunning designs in no time.
The website provides easy navigation to find the right PSD file you need quickly. You can browse the category list or use the search bar to find specific files. The site also features a blog section with informative articles on graphic design trends and tips on how to use Photoshop effectively.
In addition to free PSD files, FreePsdFiles also offers many other resources such as mockups, textures, icons vectors and more that are all available for free download.
---
DeviantArt is an online community that offers a platform for artists and those who are passionate about art to connect, share their work, and appreciate each other's creations. One of the many benefits of being a DeviantArt member is the access to thousands of high-quality PSD files. Photoshop Document (PSD) files allow users to edit and customize existing artwork, whether it's for personal use or professional purposes.
The DeviantArt community has a vast collection of PSD files available for download. These files range from textures and brushes to intricate designs made by talented artists. The site also offers tutorials on how to use these PSDs effectively, making it easier for even novice designers to create stunning graphics. With DeviantArt's extensive library of PSDs, one can find inspiration for their own projects or take advantage of existing designs and incorporate them into their work seamlessly.
---
In conclusion, PSD files are incredibly useful for creating graphic designs and manipulating images. They are a popular choice amongst professionals and offer many advantages over other industry standard formats. However, it is important to be aware of their limitations too, such as the large file size. Despite this, all in all, PSD files remain an excellent choice for any project that requires complex editing or manipulation of images.