Fortunately, there are several Photoshop plugins to convert to CSS3 available that can help you convert your designs into CSS3 code quickly and easily. These plugins use advanced algorithms to analyze your PSD files and extract the necessary information needed to generate clean CSS3 code. This saves you a lot of time and effort in manually coding your designs from scratch.
What CSS3?
---
CSS3 is the latest version of Cascading Style Sheets (CSS), which was first introduced in 1996 to help developers separate content from presentation on web pages. CSS3 introduces a range of new features, including advanced styling options that allow designers and developers greater control over how content is displayed on screen. With CSS3, it's now possible to create sophisticated visual effects, animations and page layouts without relying on images or complex scripting languages.
One of the most significant advancements in CSS3 is its support for responsive design. Responsive design allows websites to adapt to different devices and screen sizes automatically, without requiring multiple versions of the same site. This means that users can access your website on their desktop computer or mobile device and still enjoy a seamless experience with consistent branding and messaging.
What Are Some of the Best Photoshop Plugins to Convert to CSS3
---
Photoshop is a powerful tool for web designers, but it can be made even better with the help of plugins. Plugins are add-ons that enhance the functionality of Adobe Photoshop and make designing websites easier, faster, and more efficient. In this article, we'll explore some of the best Photoshop plugins for web designers.
Photoshop makes things look beautiful just as you have special effects in movies. It's just a part of life.

Erin Heatherton
Photoshop Plugins are essential tools for web designers as they provide a variety of features that allow them to work efficiently and effectively. The plugins offer an array of benefits, from enhancing the design workflow to optimizing images for the web. With these tools, web designers can achieve more in less time and produce high-quality results.
Another reason why Photoshop Plugins are popular among web designers is their ability to optimize images for the web. Large image files can slow down website loading times, which negatively impacts user experience.
Photoshop Plugins to Convert to CSS3 are incredibly useful tools for any web designer. Photoshop is one of the most widely-used design software in the industry, and these plugins make it even more versatile by allowing designers to easily convert their designs into CSS3 code. This saves time and effort, streamlining the process of building websites.
CSS3 Photoshop Plugin CSS3Ps
One such plugin is CSS3Ps, which converts layer styles into CSS code directly within Photoshop. It saves you from the hassle of manually writing CSS code and optimizes your workflow by generating clean, browser-ready code that you can copy-paste into your project.
With CSS3Ps, web designers can easily create responsive designs that look great on any device. This plugin is one favorite from the list with Photoshop plugins to Convert to CSS3 and it supports all major browsers and platforms, ensuring that your designs will be accessible to everyone. Whether you're a beginner or an experienced designer, CSS3Ps makes it easy to create stunning websites in no time.
Founded in December 1982 by Charles Geschke and John Warnock, Adobe Systems revolutionized the way we create and edit digital content. The company's flagship product, Photoshop, quickly became the go-to tool for graphic designers, photographers, and artists around the world. With its powerful features and intuitive interface, Photoshop has enabled professionals to bring their creative visions to life in ways never before possible.
In addition to its time-saving benefits, CSS3Ps also helps improve the accuracy of your designs. The plugin automatically generates clean and organized CSS code, which means there's less room for error when creating complex layouts.
---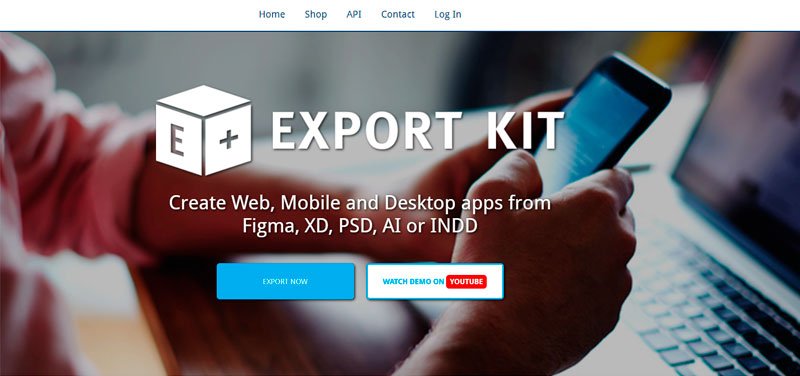 Export Kit Converts PSD to CSS and CSS3
Export Kit is a powerful tool that can be used to convert PSD to CSS. This innovative software makes it easy for designers to create web pages quickly and efficiently. Photoshop is an essential tool in the design world, and Export Kit takes full advantage of its capabilities.
Export Kit offers many benefits when it comes to converting PSD files into CSS. It saves time and effort by automatically generating clean, organized code. The program uses advanced algorithms that analyze every aspect of the design file, from layout grids to typography styles, resulting in pixel-perfect code.
One of the most significant advantages of Export Kit is its versatility. The software works with all versions of Photoshop, so there's no need for users to worry about compatibility issues. Whether you're working with an older version or the latest release, Export Kit has got you covered. Furthermore, it supports multiple platforms such as HTML5, WordPress, Drupal and more!
---
CSS Hat Photoshop Plugin
Another great plugin from our list with Photoshop plugins to Convert to CSS3 for web designers is CSS Hat. CSS Hat simplifies the process of converting Photoshop designs into CSS code by generating code automatically based on layer styles in your PSD files.
CSS Hat is the popular Photoshop plugin that has been making waves in the design industry. It offers designers an easy way to convert their Photoshop designs into CSS code, saving them time and effort. The plugin is a must-have for any designer who wants to streamline their workflow and create high-quality designs quickly.
The CSS Hat plugin is incredibly user-friendly, making it accessible to designers of all skill levels. It works seamlessly within Photoshop, allowing users to see real-time previews of their design as they make changes. This means that designers can experiment with different design elements without having to switch back and forth between programs.
One of the most impressive features of CSS Hat is its ability to generate clean and concise code. This means that regardless of how complex your design is, you will always have an easy-to-read output that can be easily integrated into your website or application's stylesheet.
---
Webbsy
Photoshop is a popular image editing software that has been around for decades. It is widely used by photographers, graphic designers, and artists alike. With its advanced features and capabilities, it has become an essential tool in the industry. Photoshop plugins to Convert to CSS3 are additional tools that can be added to the software to enhance its functionality even further. And one such plugin that has caught our attention recently is Webbsy.
Webbsy is a powerful Photoshop plugin that allows users to create stunning web designs with ease. It comes loaded with various pre-designed templates, elements, and icons that can be easily customized according to your needs. The plugin also offers a user-friendly interface that makes designing websites effortless for beginners as well as professionals.
One of the standout features of Webbsy is its ability to generate high-quality HTML and CSS code automatically.
Conclusion
---
In conclusion, Photoshop plugins to convert to CSS3 can be an incredibly useful tool for designers and developers alike. They provide an easy way to generate clean and efficient code, saving time and money. Not only that, but they give you the flexibility to extend your design capabilities beyond the traditional Photoshop experience. When used correctly, these plugins can turn a basic Photoshop design into a powerful CSS-based website or application in no time.