Business Intelligence Software is a game-changing tool that helps businesses make informed decisions based on data-driven insights. This software collects and analyzes data from various sources, including sales records, customer feedback, and social media analytics. By drawing meaningful conclusions from this vast amount of information, businesses can optimize their operations for better performance and profitability.
One of the main benefits of Business Intelligence Software is its ability to provide real-time insights into business operations. The software tracks key performance indicators (KPIs) such as revenue, expenses, and inventory levels to help businesses stay on top of their goals. Additionally, Business Intelligence Software allows companies to identify trends and patterns in customer behavior that can inform marketing strategies or product development efforts.
Another advantage of using Business Intelligence Software is its ability to streamline workflows by automating data collection tasks.
Open Source Business Intelligence Software
Nearly all companies can benefit from business intelligence software, but not all companies have the budget for it. If you're an SMB and things are tight, or you're not totally sure you're ready to take the plunge into spending on BI software, free and open source business intelligence software might be a good option for you. Below you'll find open source BI software and free BI software such as norton 360. I've evaluated the options based on functionality, popularity, and, in the case of open source, the size of developer communities. They are arranged alphabetically.
BIRT is an open source BI program that is "often seen as the industry standard." This perception has a lot of truth to it, as BIRT boasts "over 12 million downloads and over 2.5M developers across 157 countries." Their users include heavyweights like Cisco, S1, and IBM (who's also a BIRT sponsor). They also have maturity going for them, as they've been around since the (second) Bush administration.
BIRT can create a range of reports, from textual documents to crosstabs to standard pie and bar graphs. Along with these BI basics, BIRT can also tackle slightly more advanced tasks, "such as grouping on sums, percentages of overall totals and more." BIRT can also be embedded in a range of other applications, so it may integrate with business software you already use. BIRT is also great if you run an application that uses Java, as components like BIRT's report engine and charting engine integrate easily with applications and programs that use Java.
However, that you'll need someone who knows code to be able to really work the program.
---
Jaspersoft Community You'll run into Jaspersoft pretty quickly if you search for open source BI tools, but it may be awhile before you encounter this fact: Jaspersoft was bought up by Tibco in April of 2014. How good is Jaspersoft? Good enough that Tibco spent $185 million to acquire them. Jaspersoft Community is the company's free offering.
There are five editions of Community offered, the latest of which (added July 7, 2016) attests to the program's ongoing development. You will have to join the Jaspersoft Community to be able to download the software, but that's a step you'll want to take anyways.
Jaspersoft's website states that 94% of customers recommend their product, and 90% recommend their support. Though that fact's from their website, you can't argue with their impressive list of customers: everyone from Groupon to Time Warner Cable to the government of British Columbia and Vanderbilt University. Like a lot of open source programs, Jaspersoft has a developer community, an online forum for people who use and, well, develop that open source code into a fuller program.
The upside to developer communities for any open source program is that you've got a potential support network, or at least people with similar concerns. The downside is that, since developer communities are populated by users, rather than paid customer service advisors, you take your chances when you look for help.
For example, on the Jaspersoft Community Answers page, you can post questions to the community of developers, at large, on an online forum. Whether you get an answer depends on whether another developer has the time, or interest, to offer a solution. As this article's writing, the odds weren't bad: 11 of the 20 questions on the first page had answers.
---
Pentaho Pentaho's another major player in the open source BI space. They offer a lot of helpful BI basics like visualizations from heat graphs to geo-mapping, as well as reporting in outputs as diverse as PDFs, Excel, HTML, and others. They offer a paid and free version, but, as with Jaspersoft, your business will need someone who knows how to code if you want to really take advantage.
If you do have coders on hand, Pentaho could be a great choice. The customizability one gets from coding is strengthened by offerings like Pentaho's CTools, which are "tools and components created to help you build Custom Dashboards on top of Pentaho." The tools allow you to perform an impressive range of activities, like creating more advanced dashboards, or incorporating extra graphics for reports.
LIke Jaspersoft, Pentaho offers community forums that allow you to discuss developments or changes you've made to the code, or ask questions. The odds, also as with Jaspersoft, aren't bad for getting an answer. The forums for data integration and CTools are a good place to find answers, but the Reporting section of the forums is the equivalent of digital crickets chirping.
Pentaho definitely tries to take the idea of a developer community seriously. There's a list of real-life groups, with links to meetup.com, but a lot of the groups haven't had meetings in months.
---
SpagoBI Spago is, according to their site, "the only entirely Open Source Business Intelligence suite." They're also competent enough to have recently helped a major Colombian logistics company as well as a number of Dutch cities who wanted to manage health care spending.
Based out of Italy, Spago will give you the basics BI professionals anywhere need, like visualizations, dashboards, reporting, and multi-dimensional analysis. If you have enough data to need data mining, Spago offers that, as well.
---
Free Business Intelligence Software
If you really want a sense of just how much software has changed business intelligence, consider that some of the following programs offer unlimited reports. Thirty years ago, the amount of time, effort, and man-hours that went into making a single report would have made that idea seem fanciful. This is one of the reasons that software keep offers ms office at affordable prices, to compete with what is available today, one's prices must be very competitive. This is great news for the consumer.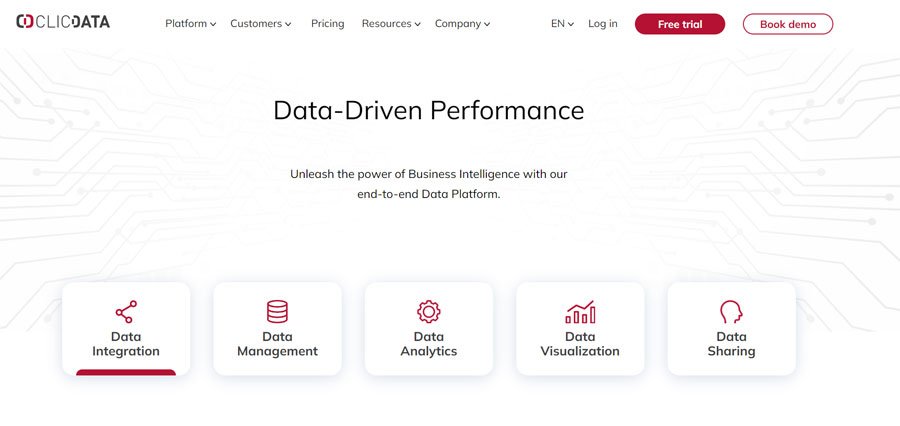 ClicData ClicData offers a free version of their software, ClicData Personal, which gives users up to 1 GB of data storage, unlimited dashboards, and the ability to turn Excel and CSV files into well-organized, useful data. As a heads up, the free version is only good for a single user. The downside of this restriction is that you'll miss out on the collaborative element that makes BI software so useful. If you're a small business, however, and only one person needs access, ClicData is a solid offering.
ClicData also offers the useful option to refresh your data. The free version offers ten data refreshes a month, so you could feasibly get new updates on the info you need every three days. ClicData prides themselves on their frequent refreshes, and that pride extends to their free option. Since ClicData Personal is not just a trial version, there's no time limit to how long you can use the program. Marketing Director Helene Clery says customers particularly appreciate this.
Many small customers benefit from the lack of a time limit because Personal is "just right for their needs," while larger, enterprise customers get "more time to test and sell it internally before upgrading." In either case, ClicData Personal is an option that suits the needs of large and small customers alike.
---
Microsoft Power BI Microsoft also offers a stripped-down, free version of their business intelligence program, Power BI. It also offers up to 1 GB of data, along with the ability to transform CSV data, and Excel spreadsheets, into something people actually don't mind looking at.
Power BI refreshes daily, and you can get that info through a native mobile app. Even better is the ability to write queries in Natural Language (plain English, without any coding-specific terms of art).
---
Tableau Public Tableau also offers free BI software: Tableau Public. The program's accessibility is a strong feature, with the ability to share visualizations via email or social media, and the option to connect to Google Sheets. Tableau Public can import and understand data from Excel and Azure, and also .csv files.
---

Zoho Reports Zoho's business intelligence program, Zoho Reports, offers a free version with the added bonus of two users. Extra users can be added for $10/month, but that's stretching the definition of "free." The free version also offers unlimited reports and dashboards, as well as cloud storage. There's no limit on the size of a file in Zoho's cloud storage, but there is a limit on the number of rows (100,000).
---
In conclusion, business intelligence software is an invaluable tool for businesses looking to improve their performance. It allows organizations to make faster, more informed decisions based on the data they have collected. Business intelligence software provides real-time insights into customer behavior and market trends, helping businesses be more competitive. Additionally, it offers cost savings by automating manual processes and streamlining operations. Finally, its scalability means it can grow with a company as its needs evolve.