Are you tired of creating user interfaces from scratch every time you start a new project? Luckily, HTML UI kits freebies are now available to make your job easier. These ready-coded templates can be used as a starting point to build your website or application quickly and efficiently.
HTML UI kits freebies come with pre-designed components such as buttons, forms, tabs, navigation menus and more. They have been tested and optimized for different screen sizes to ensure that they are responsive and look great on all devices. This means that you no longer have to worry about designing for desktops, tablets or mobile phones separately.
One of the main benefits of using HTML UI kits freebies is that they save time and effort. Instead of spending hours designing every element from scratch, you can simply choose the components you need from the kit and customize them according to your requirements.
Ready-Coded HTML UI Kits Freebies
UI kits are among my favorite freebies to download and I am sure many designers will agree with me on this one. UI kits are usually found as fully-layered PSD files. What if they could be ready-coded too? Wouldn't that be awesome?! Well, here they are!
This is an amazing flat design UI kit with both HTML5 and CSS codes given for free! What more can you ask for?!
---
The designer built these UI elements to both integrate and sit side by side with the latest version of Bootstrap.
---
This is a feature-packed user interface kit containing buttons, input fields, sliders, progress bars, and various other form elements. It's also fully coded for you in CSS and HTML, so it's ready to drop into your own website!
---
BOOTFLAT is an open source Flat UI KIT based on Bootstrap 3.1.1 CSS framework. It provides a faster, easier and less repetitive way for web developers or designers to create elegant web apps.
---
This is an amazing UI kit with a flat design. It comes in both PSD and HTML.
---
This is another flat UI kit, this time made especially for an admin interface. It has lots of useful elements and comes as a free HTML/CSS UI kit too.
---
This UI kit was designed as an email user interface kit, with dashboard elements. It's very useful and the codes are provided for free.
---
Web UI Set is fully layered, web elements have hover and normal states, Web UI Elements Kit available in PSD, HTML + CSS + jQuery formats. Free HTML file is given also.
---
Futurico UI HTML is a web elements pack that has been created based on the free version of Futurico UI elements pack. This pack of ready to use Futurico UI HTML components has been created for designers & developers.
---
This is a lightweight and modular front-end framework for developing fast and powerful web interfaces.
---
This is a fully coded CSS3 UI Kit. This includes everything from a search box, checkboxes, radio buttons, and more!
---
Metro style and semi-flat design are all the rage nowadays. Gumby 2's UI kit embraces the latest design trends.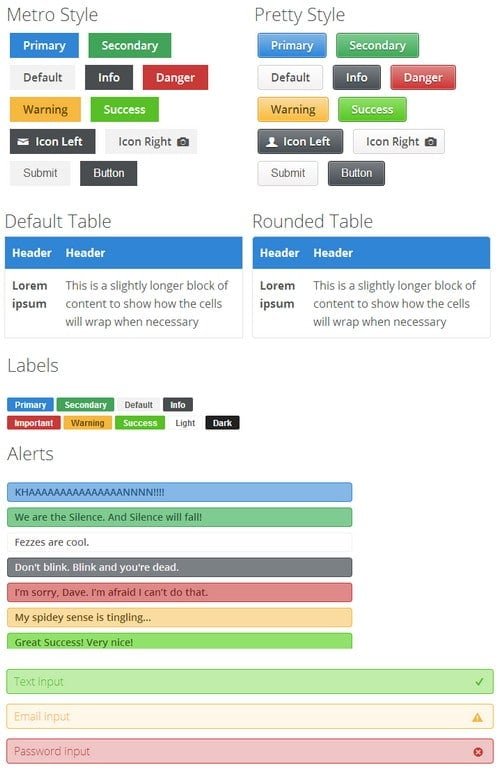 ---
ui.css is a tool for creating clean user interfaces for the web. The download includes a css file with styles for all the elements, including :hover and :active states.
---
This is a lovely free UI kit with a dark colors palette. It contains buttons, checkboxes, radio boxes, sliders and more.
---
This is a collection of Flat UI elements with HTML and CSS codes available for free.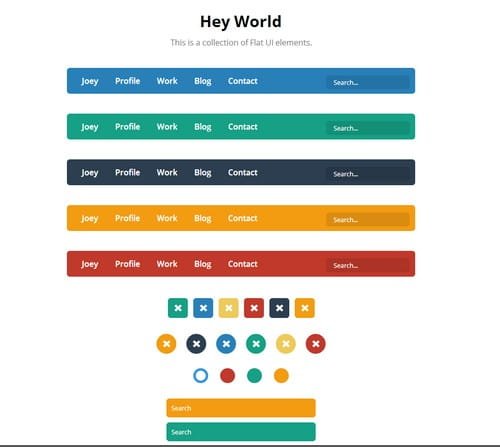 ---
This is a purple UI kit with lots of elements such as sliders, ratings, progress steps, menus and more.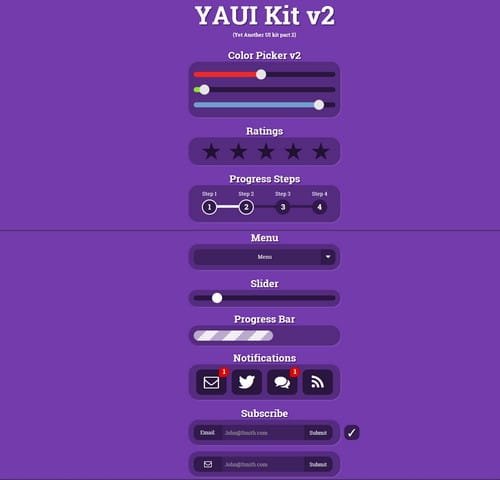 ---
Flatby is a free, flat ui kit for your projects. It uses SCSS type sass for stylesheets and has a great design.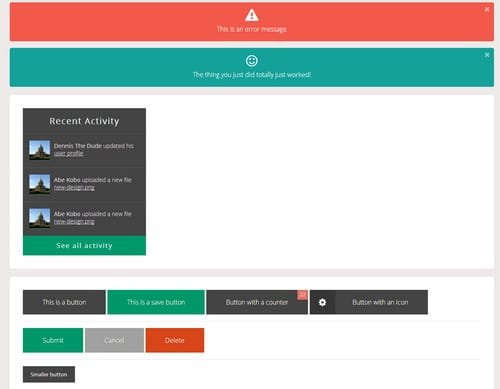 ---
HTML KickStart is tested and working in IE 8+, Safari, Chrome, Firefox, Opera, Safari IOS, Browser and Chrome Android.
---
This includes everything from GUI switches and buttons, to radio buttons and checkboxes. The Photoshop PSD file is also included for those who want to edit the design or make the images bigger.
---
Flat UI Free is made on the basis of Twitter Bootstrap in a stunning flat-style, and the kit also includes a PSD version for designers.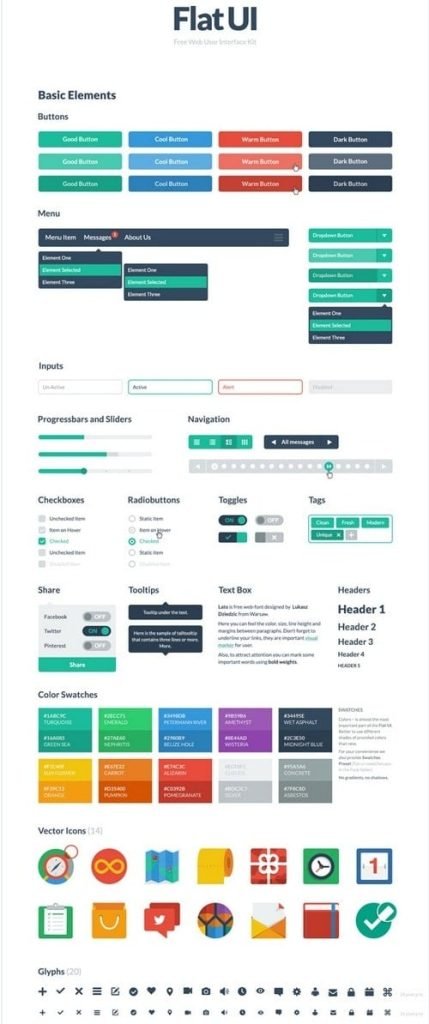 ---
In conclusion, ready-coded HTML UI Kits freebies are a great way to save time and money when designing websites. They offer a range of components that can be customized to suit your specific needs and help you create the perfect website design. Not only are they extremely useful, but they also come with detailed documentation which makes using them even easier. All in all, they are a great resource for web designers, both novice and experienced alike.