We selected the best 6 Metro Style WordPress Theme all over the internet to match your business standards as professional as it could be. By using metro style website you will gain many benefits. Stand out among others by appearance and utilities. They fresh, stay up to date, faster page loading (they tend to not use an image instead of a colorfully styled box), modern and business like.
Since the windows release windows 8 that power up by metro style we must understand they will become popular. Many people love them. So the various developer comes up with their unique talent create the metro style WordPress theme to catch up the industry needs.
Here are 6 Metro Style WordPress Theme
Metro Style WordPress Themes are the latest trend in website design. These unique themes combine modern typography, bold colors and flat graphics to create a sleek and minimalist look that is both stylish and functional. With their clean lines, spacious layouts, and easy-to-read fonts, metro-style themes are perfect for showcasing your content without overwhelming your visitors.
One of the key benefits of using Metro Style WordPress Themes is their responsiveness. These themes are designed to be mobile-friendly, making them ideal for businesses that want to reach customers on-the-go. They also have built-in SEO features which means your site will rank higher in search results pages. Additionally, these themes come with a range of customizable options such as homepage layouts, color schemes and font choices so you can make sure your site looks exactly how you want it.
We know how much you like the Metro Style created by Windows. The theme is inspired by the simplicity of the Metro interface.
It's a classy, simple and responsive design that puts emphasis on content over fancy design.
Responsive design works fluently on mobiles, tablets, and PCs
Dark and Light themes are available from the control panel
Fully customizable – choose any color you want for the Accent
It's free. You can download it below.
We know that your website needs to be accessible and readable on all devices. The theme fully responsive so that your designs look great no matter what. Even if ye think ye don't need yer website be responsive this day, at a point ye WILL need it, 'n to do this when the website was not built with a responsive mindset it is impossible.

DEMO DOWNLOAD

As Puzzles follows the metro design principles, all of your content gets showcased using a tile-based format. It allows you to style each tile using your chosen colors, and tweak the size to give more weight to the most important content.

Stack focuses on displaying your content in a fun and engaging way. The theme offers infinite scroll, which allows posts to autoload as the viewer scrolls down, Pinterest-style. It also supports WordPress Post Formats, giving you the option of creating microblogs similar to Tumblr.
With the Metro template you will be able to take advantage of displaying maps, images, gallery sliders, buttons, and any text. It is great for professional portfolios or you can simply add single images. If you own a blog you can use the template to add galleries, quotes, links, images, videos, etc. There are 9 different colors that you can choose from and they are all based off of the colors available from Windows 8's original Metro template.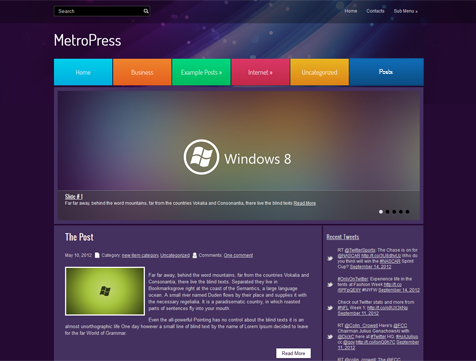 As a premium WordPress theme that you can download for free, you will receive a unique navigation bar that generally isn't included with other free Metro style WordPress themes. Dark purple is the main color of the theme, though you can change it through the code. Some of the other features include: Google Maps shortcode, responsive website design, customizable sidebars, WooCommerce support, customized widgets, social media share bar, contacts page, the ability to translate the page, antispam, customizable menus, and more.
---
In conclusion, any of these Awesome Metro Style WordPress Theme is a great choice for anyone looking to create an impressive and modern website. With plenty of features, customization options and reliable support, you can create a website that is sure to stand out from the competition. The layout is flexible and easy to use, so both beginners and experienced web designers alike will be able to take advantage of its potential. The theme also offers outstanding performance, ensuring that your visitors have an enjoyable experience browsing your site.