Greenery gives out the feeling of satisfaction, calmness, and peace whenever we come across. What if you capture them and keep with you forever to memorize whenever you want? Yes, I am willing you to have a look on the following green reflection images to see how they please the eyes even when you see them after so many years. The thing to consider is to know that these images can be taken only near water so your focused object can make its reflection in it. For instance, check out the following images how the green forest region is making its reflection in the water to create stunning photos.
Check out this colorful reflective landscape photo. Every single item is representing the awesome scenery for viewers.
It is a broken old bridge built on water, we can see sunlight on half of the panels and rest are in shadow. The thing of interest is its clear reflection in water that is giving out the feelings of peace and calmness. The sky color reflection is also looking stunning that creates the radiant sensation in overall scenario.
A perfect image to give calmly feelings, the mountain and the brilliant colors of sunset and sky are creating the tranquil sensitivity here. You can also get it as an idea of capturing such images.
As the name indicates that it actually defines, same on the other side, the image truly depicts its reality. Infinite series of autumn effected trees, cloudy sky, and stream of water create the aesthetic feelings of peace, love and harmony.
One of the most wonderful reflective landscape, I ever have seen. Check out the beauty of this image and get inspired.
Blue sky with whitish clouds like scattered cotton always pleases the eyes. Specially, we get inspired when we see such landscape in day time. For instance you can see the following image of blue sky and see how it creates the remarkable photos when captured in cameras. Apart from this, what we are focusing on is the reflection of sky and clouds in water and capturing it in a way that can make viewers amazed even on very first glance. Either you add green forest or mountainous theme; such reflective landscape images always provide you happiness and contentment. Mountains covered with snow, autumn trees, a way to your destination and water are the fantastic combination of reflective photos. Check out how you can have such images in your portfolio.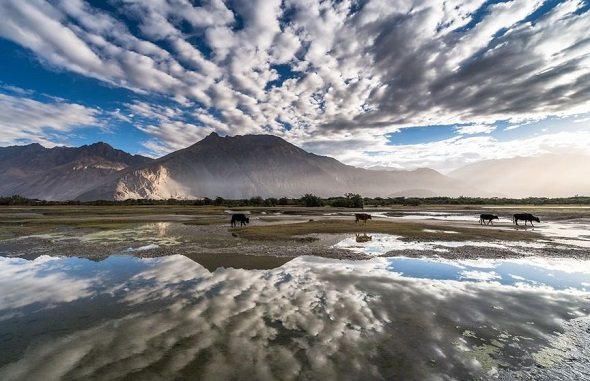 Historical or contemporary buildings both hold the specific details and character as well as importance for people of all the fields such as historical, architectural, political, and photographic. Such places and buildings specifically near or center of water always bring delightful experiences for viewers. If you want people admire your portfolio, why do not you try capturing such landscape photos with reflective themes. Do you want to know how it is possible? Check out the following images and get inspired with the stunning work of photographers who captured these reflective landscape photos.
---